Hand Carved Walking Stick Cane Staff Wooden Crafted with Flower Light for women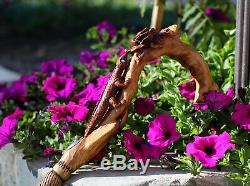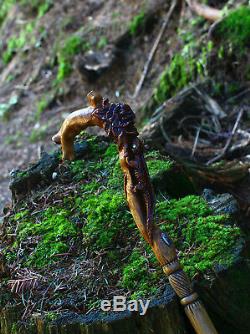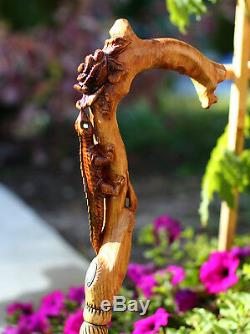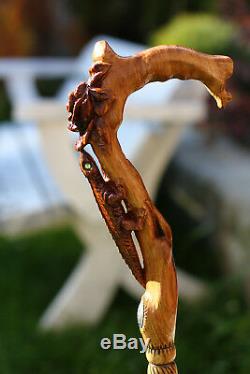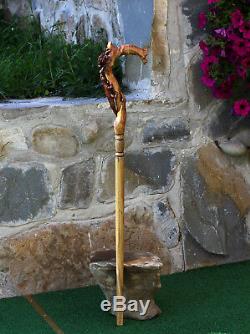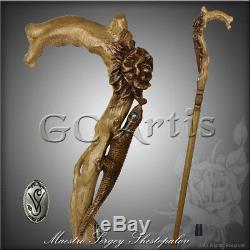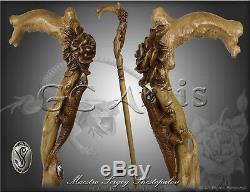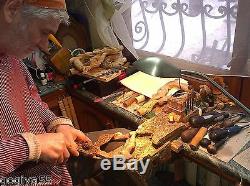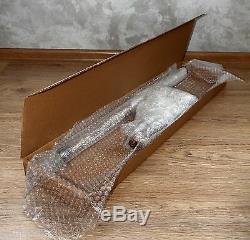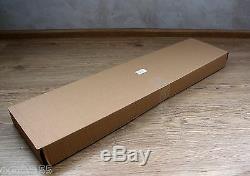 Lizard & Flower - Light wood Walking Cane. Designer Art Wooden Hand Carved Crafted Walking Stick cane for women. Stylish fully functional Ladies Female Handle Cane. Designed in our GC-Artis Workshop, Ukraine. ORIGINAL CANE has the metal medallion with the. Consist of 2 parts: handle and shaft are connected by reliable screw connection. This is a real unique MASTERPIECE.... But it's not just art..
It is a very reliable and effective walking stick with an ERGONOMICAL handle. SIZE: up to 36 inches in length.
SUPPORTS: up to 300 lbs. USE: for women, ladies, well for right-handers ONLY. Solid OAK or ASH wood. SHAFT MATERIALS : Solid OAK or ASH wood.
Sergey is one of the best woodcarvers of Ukraine who makes amazing cabinet and yacht interiors. Wine racks and watch from a single tree trunk. He needs some month to create each new model of the cane. He works hard with two. Journeymans to make some pieces of each cane design per/month.
So I have very limited editional for sale. Both Lizard and Flower relate to the Fire Element - of Creativity through integration and intuition. Lizard sunbathing symbolizes opening up to new ideas and accepting the blessings of fire regularly in order to survive - striving at all times to evolve integration power for enhanced adaptability and function at all times. The lizard ascends along this cane, to bask at the light of the end product of growth - the flower of enlightenment and love. The Flower symbol is identical to the Sun in that respect: Growth of wood evolves into the fire of the flowers attracting insects. These insects are the Lizards' pray. So here function is multi-leveled - both Flower and Lizard need insects. The Lizard does benefit from the flowers' exposure as such. The message of this walking stick, then, is one of balance: exposure and beauty. Lizard and Flower together manifest appreciation of all the assets of knowledge and earthly life adaptability. This flower wooden walking cane stick well for ladies & women who use it that wishes to have additional.
At walking on city streets. Who find a Stick useful for Protection against wild animals and old elderly people who want a. Also this handmade hand carved walking stick cane will be excellent addition for any Art collection. Or an best gift idea for Mother's day or Birthday. Rops for an original photo / video set, theater or movie staging &.
Stylish dressy accessorie for a costume party. This light wood cane walking stick is not certified as medical so it can be used those who need a support and aged people who might be prone to falls or has any.
Serious problems or ailments of. 7-14 days to most European Countries. 12-15 days to USA, Canada, Israel. 16-25 days to Australia, New Zeland, South America.
CAUTION: Please take care of cane from falling onto a hard surface such as concrete or asphalt, or ceramic tile. It tends to fall if you left a cane to lean on the wall and can get a crack or delicate details or fracture.
The item "Hand Carved Walking Stick Cane Staff Wooden Crafted with Flower Light for women" is in sale since Monday, March 19, 2018. This item is in the category "Clothing, Shoes & Accessories\Unisex Clothing, Shoes & Accs\Unisex Accessories\Canes & Walking Sticks". The seller is "gogiya55" and is located in Europe. This item can be shipped worldwide.
Material: Wood
Theme: Flowers
Brand: GC-Artis
Country of Manufacture: Ukraine

---