Meiji Period Late 19th/ Early 20th Century Carved Japanese Samurai Walking Stick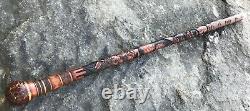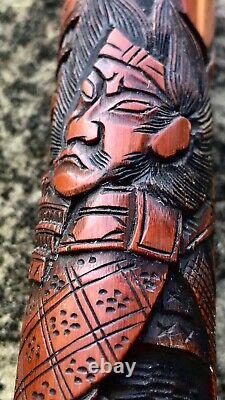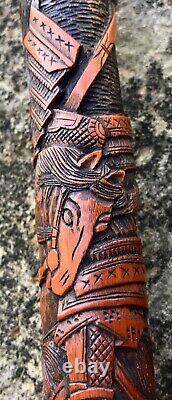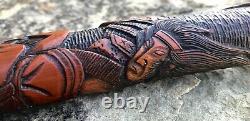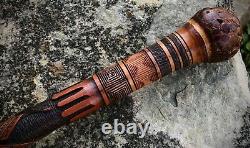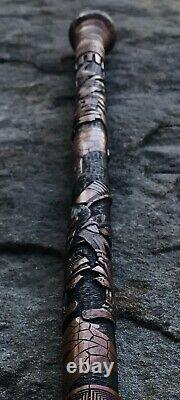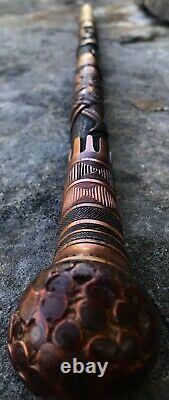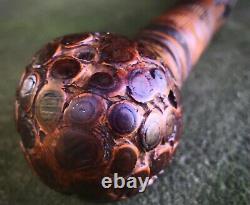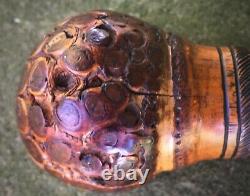 MEIJI PERIOD, LATE 19TH/ EARLY 20TH CENTURY HAND CARVED JAPANESE SAMURAI WALKING STICK. This is an absolutely beautiful piece that my late father picked up in the early 60s while in Tokyo, Japan. To be quite frank, this is one of those pieces Id never imagined I would offer for sale. While an undeniable work of artistic brilliance, this is not a cane that Ive tended to reach for in recent time. The fact of the matter is, many of my walking sticks are no longer the best option when it comes to the stability I increasingly need.
This is not a weight bearing walking stick - nor are many of those canes in my current collection. Therefor, these days my go to is your standard - heavy gauge steel walking stick. Boring - yes but after having one of my lighter wooden canes in my collection snap on me, and taking a rather bad fall - boring is something Ive learned to live with.
Simply put, this just isnt a walking stick I can use functionally anymore. Until recently, I was content simply displaying this walking stick as a decorative piece in my office space.
However, this gradually started to weigh on my conscience. This is a STUNNING piece one that I have received hundreds of compliments on through the years. Each and every time Id receive a compliment on the piece - Id hand it over for that person to inspect touch feel. The smiles on their faces warmed my days. Sitting in my office, this walking stick would never again bring smiles to the faces of strangers.
Rather than hoard this piece away just to say I own it - I decided that it was time for the piece to move on to its next phase in life. It will indeed be a bittersweet moment when this piece goes out. I hope that wherever this piece goes, it is given the continued admiration, love, and care it so deserves. The Walking Stick Itself: This is a Meiji Period walking stick, circa late 19th/early 20th century - bearing some of the most exquisitely detailed low relief carvings Ive come across in my many years as a collector. Here is the thing I can sit here all day and describe the intricacies of the woodwork include a hundred high quality photos, yet, I would be no closer to adequately conveying the complexities of this walking sticks antique handmade design.
How Ive wished through the years that I could put a name and face behind the incredible work of art.. Whoever the artist was - the talent is next to otherworldly. I cannot do on paper - what this artist does on the unforgivable medium of wood.
Depicted throughout the walking stick are ornately depicted Samurai of old, and their equally stunning horses. The detail therein is absolutely incredible.
Look for a moment at the photos of the Samurai. Look at the finite degree of detail - the microscopic perfectly composed etching of their long strands of hair. Again, I feel overwhelmed trying to describe this walking stick in word alone.
Please look through the photos in depth - as I believe this will offer the best chance to understanding all that this walking stick entails. This cane is 3-Dimensional and multi-layered in design.
Low relief in style, the chosen designs truly pop forth from their receded background. Look at that background - as it is something in and of itself worthy of admiration. It has a truly mesmerizing feel - with its highly intricate rises and falls in the carved wood. Their are a multitude of designs present throughout the structure of the cane. Traditional highly detailed abstract geometric patterns clashing with realism.
The top of this walking stick - the handle - is brilliantly composed. Bands of geometric shapes lead up to a natural, raw handle. Look at the tiny, meticulously composed etchings that make up the geometric bands. Just below these hypnotizing intricate bands - a liquid like element to the wood.
It looks as though the wood leading to the top of the walking stick is dripping down to the body of the cane. To say this is a difficult aesthetic to achieve is an understatement.
These wood drops are so perfectly rounded.. What a fantastic artistic element this molten wood effect is. The handle itself is so organic looking so raw in appearance.. Like that of a marbled, bubbled wood. I find that the handle - left in a natural state - when juxtaposed with the highly manipulated body of the walking stick is simply awe inspiring.
What a lovely vision this artist of old has brought to life! Moving down to the very bottom of the cane - past the Samurai covered midsection - a wonderful array of complex traditional abstract patternization. The bottom third of the walking cane bears six bands that wrap around the stick in full. While it is easy to find yourself on a surface level taken with the artwork here - try and take a moments time to look at the complexities of the work here. Each and every striation/etching in the wood is on point beautifully linear..
Look for a while and youll truly find that the design present here is nothing short of hypnotic! It is easy to get lost in the design of this walking stick..
Hence why after many, many years I still find myself in awe of the piece each and every time I pick it up. This antique Meiji period walking stick is in absolutely incredible condition considering its age. At the top of the handle, you will notice a fissure in the wood.
This is entirely SURFACE LEVEL - and not anything that actually presents a structural integrity issue. I imagine that this fissure could have been present very early after creation - it is simply the nature of the wood. Again, there are NO elements on this cane that present structural integrity issues. It is intact, strong, sturdy.
This said, I would advise caution if you intend to use this piece functionally. If using this walking stick functionally, it should almost be used as an accessory..
If you are one who actually needs a walking stick to get around (such as myself) using this cane could present a danger to both yourself, and the walking stick. If you were to put all of your weight on this walking stick, I fear it would indeed crack. This is an old, old piece it isnt capable of supporting the weight of a grown man.
Overall, this is quite possibly the most stunning work of walking stick art Ive come across in my now many, many years. I say this without an iota of bias.
I promise you that this cane is all the more stunning in person.. The photos truly do not do it justice. I will get back to you promptly. The item "MEIJI PERIOD LATE 19TH/ EARLY 20TH CENTURY CARVED JAPANESE SAMURAI WALKING STICK" is in sale since Wednesday, October 20, 2021. This item is in the category "Antiques\Asian Antiques\Japan\Other Japanese Antiques".
The seller is "uniqueluxurygoods" and is located in Chagrin Falls, Ohio. This item can be shipped worldwide.
Region of Origin: Japan
Age: 1900-1940
Primary Material: Wood
Maker: Unsigned Artist
Original/Reproduction: Antique Original
California Prop 65 Warning: NA
Color: Brown
Handmade: Yes
Style: Low Relief

---